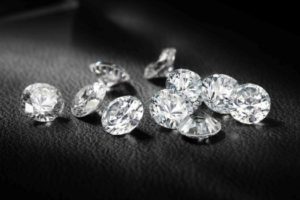 In this age of synthetic, lab-grown diamonds, transparency is critical.  Lab-created diamonds are chemical clones of their mined counterparts, so tracking and authentication must take place at every step of the process.
Synthetic diamonds are man-made diamonds grown in a lab with the same chemical, physical and optical properties and structure of natural diamonds. Aside from their origin, they are essentially identical to mined diamonds.
Beginning in the early to mid-1900's, there were several experiments designed to create diamonds in a lab setting. Scientists tried to mimic the same conditions under which mined diamonds are created but were unsuccessful. However, in the 1950's General Electric was successful in creating the first ever synthetic diamonds. Following this breakthrough, technology has improved dramatically and synthetic diamonds are being produced around the world.
There are two main ways synthetic diamonds are created.
High Pressure/High Temperature (HPHT) is the original method of creating synthetic diamonds, using heavy presses and high temperature to duplicate nature's way of creating diamonds. Often times these diamonds are greenish, yellowish or slightly brown in color.
Chemical Vapor Deposition (CVD) uses a low pressure method.  A seed crystal wafer is placed into a crystal growth chamber where carbon molecules and other ingredients are heated until a vapor cloud is created. That vapor covers the seed crystal in a film, molecule by molecule, until eventually a diamond is formed. It takes a few weeks to create, but the result is a beautiful, clear diamond with all the same properties as its mined counterpart.


"It is vital that man-made diamonds are properly identified and accurately represented to the jewelry-buying public," says Bill Boyajian, graduate gemologist, former president of GIA, and founder and CEO of Bill Boyajian & Associates Inc.  "Leading members of the diamond and jewelry trade have developed elaborate systems to clearly identify their gems and jewelry, to safeguard the public's trust in their products," he says.
In the United States, the Federal Trade Commission requires that any gem material produced in a laboratory be described in a way that leaves no doubt that it was not produced naturally. It is considered to be a deceptive practice if a synthetic gem material's origin is not clearly disclosed at the time of sale. A number of industry organizations such as the American Gem Trade Association (AGTA), the International Colored Gemstone Association (ICA), and the World Jewellery Confederation (CIBJO) that have formulated specific guidelines regarding the disclosure of synthetic gems.
Before you choose a diamond for your next purchase, be sure to consult a GIA certified jeweler.  At Grants Jewelry, every stone is accompanied by a written, detailed appraisal – a description and estimated retail replacement value of your piece.  You will also receive a GIA or EGL certificate for each stone that provides all the available information about the diamond.  Contact us today to work with a GIA certified jeweler and rest assured that your diamond is the stone you expect it to be.
Courtesy of JCK Magazine , GIA and The Diamond Authority
https://www.grantsjewelry.com/wp-content/uploads/2016/05/man-made-diamonds-resize.jpg
350
525
Susan Grant
https://www.grantsjewelry.com/wp-content/uploads/2021/06/logo-personal-300x120.png
Susan Grant
2016-05-31 13:43:30
2016-05-31 13:43:30
Diamond Authenticity