The mere thought of losing a valuable piece of jewelry – whether the value is monetary, sentimental, or both – is enough to make most women cringe. Unfortunately for one NYC woman, that was the reality last week.  After preparing Thanksgiving Dinner for her family, this woman realized that her engagement ring and wedding band were nowhere to be found.
She had placed the rings by the sink, and they were mistakenly discarded.
The Department of Sanitation was able to narrow down the trash from her apartment building – it was among 13 tons of waste in a collection truck at a NJ trash-transfer station.  Hours of sorting later, the woman and her two assistants, dressed in full protective gear, located the rings!  They were able to identify the trash bag because it contained several pieces of junk mail that should have been recycled, but were placed in the garbage instead.
(See the story here)
It happens more often than you might think.  In August, a fistful of diamonds worth nearly $1 million was accidentally thrown out with the trash in Manhattan's Diamond District.   Also earlier this year, a newlywed lost his wedding band on the beach in Hawaii, where the couple was honeymooning.  The ring was found by another couple in the waves several days later, and thanks to a unique inscription, the band was returned to the couple shortly after they returned home.
Similar stories can be found all over the internet.  Social media has become a popular way to share your search for lost jewelry, and to try and reunite owners with missing pieces.  There is even a website dedicated to such searches, www.ilostmyjewelry.com.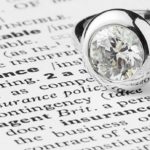 Unfortunately, not everyone is fortunate enough to find their missing treasures. While you can't replace the sentimental value attached to some jewelry, you can replace the item itself, if you have the proper insurance. That's why it's so important to have your jewelry appraised and insured.
Every purchase from Grants Jewelry comes with a complete appraisal, but if you have jewelry that has not been appraised, Susan can do so for you. Once you have that appraisal, contact your insurance company and ensure that you have the proper coverage for your piece, so it can be replaced if it does go missing.  And remember to update the appraisal every few years so it's current and accurate in the event you do need to replace or repair your jewelry.
Interested in more stories like this?  
Like us on Facebook.  Follow us on Twitter.
We send a monthly newsletter with clips to our favorite News & Events stories.  Subscribe today.
[salesforce form="2″]
https://www.grantsjewelry.com/wp-content/uploads/2016/12/ringrescue2.jpg
332
575
Susan Grant
https://www.grantsjewelry.com/wp-content/uploads/2021/06/logo-personal-300x120.png
Susan Grant
2016-12-01 17:07:03
2016-12-01 17:07:03
Lost & Found