In it's original concept, the eternity ring dates back to the Egyptians, 4000 years ago.   The significance of eternity rings also comes from Old Egypt, where the circle was a powerful symbol that represented eternity. The Egyptians also believed that the bond of marriage between a man a woman was so strong it could not be interrupted by death.
Archaeologists have found ancient Egyptian rings made of many different materials, such as braided reeds, carved bone and metal. Each of these rings had carvings, beads and gems in common, that were featured around the entirety of the band.
The earliest examples of the eternity ring were just an ordinary circle of precious metal.  As the ring evolved, stones were set along the top of the ring.  Some early examples were also set to mimic the image of a snake devouring its own tail, known as the ouroboros.
Precursor to the Eternity Ring – The Shen Ring
In ancient Egypt a shen ring was a circle with a line tangent to it, represented in hieroglyphs as a stylised loop of a rope. The word shen itself means, in ancient Egyptian, encircle, while the shen ring represented eternal protection.  The Shen is a representation of infinity and permanence.  Considered a romantic love token, "Shen" rings symbolized the eternal and were used by couples to mark special occasions.
Today's Eternity
The eternity ring resurfaced in the 18th century and was often used by suitors as a promise ring.  In modern times, the eternity band is not just a wedding band, but it has also become a family heirloom.  The ring is a symbol of a couple's life together.  When passed on to children and grandchildren, the eternity ring becomes a way to represent the history of a couple's marriage and love for one another, and the life they shared together.  These significant memories help that love become "eternal", as it is passed down through generations.
Eternity rings are given as anniversary gifts, to mark the birth of a child, or to mark a significant life occasion.  They can be crafted with diamonds, or with gemstones, or a combination of both!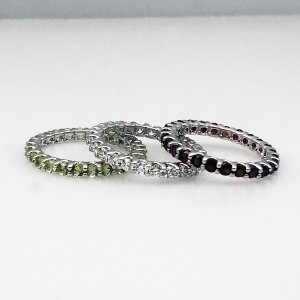 https://www.grantsjewelry.com/wp-content/uploads/2021/05/Shen-Ring.jpg
803
1200
Susan Grant
https://www.grantsjewelry.com/wp-content/uploads/2021/06/logo-personal-300x120.png
Susan Grant
2021-05-19 13:30:10
2021-05-19 13:30:10
A Token of Life and Eternal Love