Basically, a "man"-engagement ring is an engagement ring… but for men.
That's right: Men, too, can enjoy the thrill of wearing a sparkly ring to let everyone know they're off-limits and belong to another person. Men's rings tend to be plain gold, silver or platinum bands, possibly with small diamonds.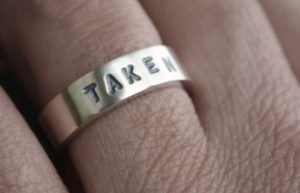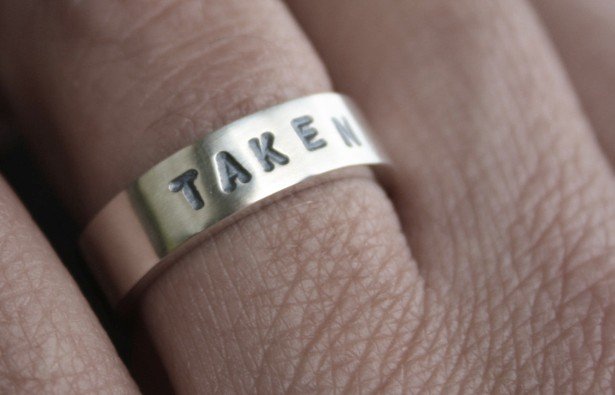 A recent study by the parent company of popular wedding website "The Knot" found that five percent of men were already wearing engagement rings.  Jewelers report that they are designing more engagement rings specifically for men.  Why?  Men are increasingly proud to be engaged, and want to be on an equal footing with their partners.  For some, that means an engagement ring.  "Women have engagement bands to show that they're taken, in love and happy – and men sadly don't, which I feel they really miss out on," says 24 year old Emmie.  "Everyone asks me about my engagement ring, but no one really asks him too much about it apart from saying 'well done, mate'".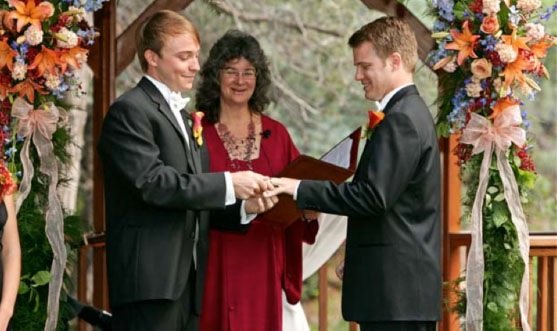 The legalization of same-sex marriage in many states has also had an effect on the rise of these rings. When the traditional concepts of a man proposing to a woman are off the table, new rules apply to the jewelry as well.  But this is certainly not some new marketing ploy.  It's difficult to pinpoint the origin of this little-known piece of jewelry, but it predates the 21st century.  In the 1920's, jewelers joined together for a cooperative advertising campaign to try and popularize the concept of a man's engagement ring.  Ads ran in East Coast newspapers, featuring black and white photos of a man's left hand, a cigarette resting between the first two fingers and a large rock flashing on the fourth. The rings had ultra-macho names like the Pilot, the Stag, and the Master. The campaigns were unable to overcome the ingrained femininity of the symbol, and the movement flopped.
So you're in?  Great.  But countless hours were spent helping men understand how to buy an engagement ring for you.  What should you consider when buying his ring?  The most important factors, aside from your budget, are as follows:
Lifestyle.  Does he work with his hands?  Is there a chance his ring could be damaged? Consider precious metals like gold or platinum that can easily be repolished.  If he's a nine-to-five office type, an alternative metal like cobalt, titanium, Damascus steel, or meteorite could be a great option.
His wardrobe.   Does your guy live in T-shirts and jeans?  Then he probably doesn't want something flashy, so explore more simple styles.  If he wears a suit to the office every day, and has a more polished casual wardrobe, he may prefer a ring with a more refined style.
The story.  Some are men of few words, but other guys love a good story. For example, maybe he'd love to tell friends that his ring is made from the same material used to craft the custom sword you gave him last Christmas.  Or that his ring is the same style that a popular media figure is wearing. Providing your jeweler with clues to his personality will help them to provide suggestions for the perfect ring for your intended.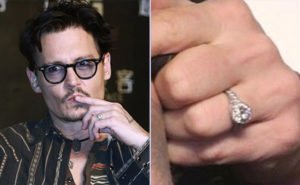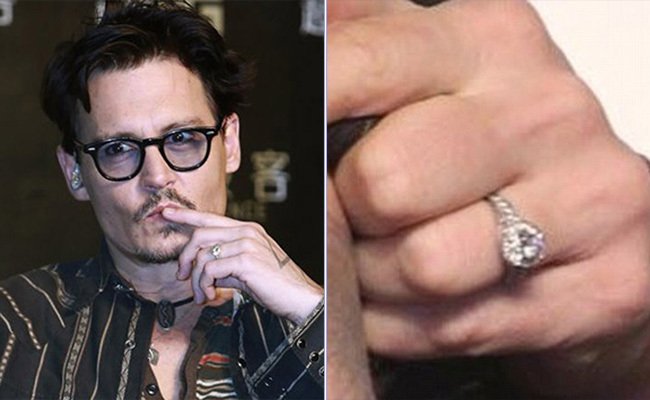 Johnny Depp's Engagement Ring
So whether you are engaged & looking for a ring for your fiancee, or you're ready to turn the tables and propose to him, Susan can help you create the perfect "man"engagement ring for your significant other. Reach out today – [email protected].
Sources:  The Atlantic, The Independent, Huffington Post, The Knot