Blue is the most popular topaz color in today's jewelry marketplace. It is sold in a broad range of blue colors, starting from a pale blue with a light tone and saturation, all the way to a deep blue with a moderate to dark tone and saturation.
Blue topaz is rare as natural topaz is mainly colorless. As such, most blue topaz are treated to achieve that color. In the early 1970s, gem treatment experiments revealed that much of the abundant and inexpensive colorless topaz could be converted into blue topaz. The colorless topaz was first treated with high-energy electron or gamma radiation and then heated to a beautiful blue color. Treaters learned to vary the treatment procedure to yield topaz in a wide range of blue colors.
Coming from the exceptionally wide variety of Topaz colors, London blue topaz is a dark blue topaz with medium to dark tone and saturation.  Its high refractivity captures the light brilliantly, and blue topaz lends itself to a high polish, making it highly desirable.   London Blues are also referred to as 'Inky' and 'Steely' Topaz.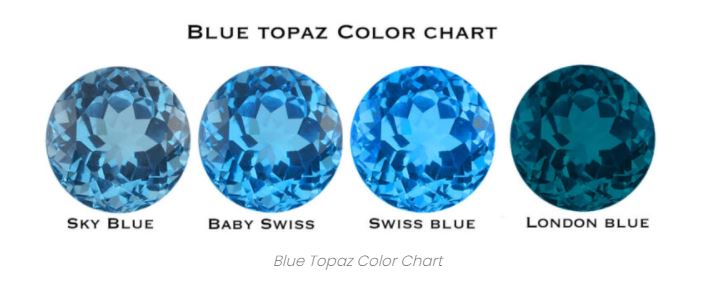 Fun Fact:  Topaz is also the favorite amongst the residents of the state as it's the Texas state gemstone!
London Blue Topaz is an exceptionally beautiful deep blue-hued and sought-after color variety of Topaz that has a calming effect on the wearer.  It is by nature a romantic gem and often figures in love stories.

The Ostro: The Famous Blue Topaz, is the largest blue topaz.  It is displayed in the UK's Natural History Museum's Minerals Gallery. British Explorer Max Ostro discovered the rough material in 1960, from which the Ostro was cut from.
December Babies – You are the lucky ones.  Topaz in blue color is the most admired member amongst the Topaz family because of its brilliance and striking color.  
Follow along on Social Media to learn more about gemstones and jewelry.
https://www.grantsjewelry.com/wp-content/uploads/2021/12/Facet-Rough-Electric-Swiss-Blue-Topaz-1.jpg
2056
2056
Susan Grant
https://www.grantsjewelry.com/wp-content/uploads/2021/06/logo-personal-300x120.png
Susan Grant
2021-12-14 14:02:15
2021-12-14 14:05:19
Blue Topaz: A December Birthstone