The emerald is perfect for people trying to make a mark in creative filed like music, painting, fashion designing, interior designing, etc. Related to planet Mercury, it is thought to help the wearer to get new ideas. It is also thought of as a stone of communication, helping the wearer better articulate thoughts.  Emerald has also been said to ease allergies, improve concentration and protect the wearer from fraud and betrayal. And in case you need further convincing that you should wear emerald, take a look at some famous emeralds – both historical and current!
Several famous historical artifacts were made out of emeralds. Among them is the Crown of the Andes, said to be made from emeralds worn by Atahualpa, the last Inca (king) of Peru. The crown is set with about 450 emeralds, collectively weighing 10 ounces (1523 carats). The Crown of the Immacculate Conception, known as the Crown of the Andes — known in Spanish as La Corona de los Andes – is a votive crown, originally made for a larger than life-size statue of the Virgin in the cathedral of Popayán, Colombia. The diadem was made around 1660, and the arches were added around 1770.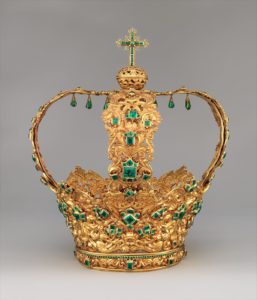 The Seringapatam Jewels
One of the most breathtaking suites of emerald jewelry in existence is the Seringapatam Jewels. The ornate set consists of a necklace, brooch, bracelet, and pair of drop earrings created from emeralds, diamonds, gold, and platinum. The emeralds were originally a reward given to British Major-General George Harris, following a victory at the Battle of Seringapatam in India in 1799. The emeralds remained in the family, and were eventually set into the spectacular suite of jewelry for the wife of the fourth Lord Harris, Lucy Ada. The gems were made into jewelry over a period of years, beginning with their marriage in 1874 and continuing until 1887.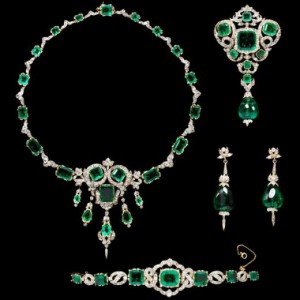 Elizabeth Taylor had quite an impressive emerald jewelry collections, worth nearly $100 million. Richard Burton gave this particular collection to her. and the set was sold in 2012 during an auction in New York. The famous emerald necklace sold for $6,130,500, alone.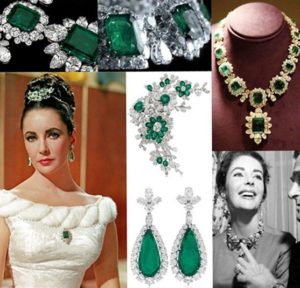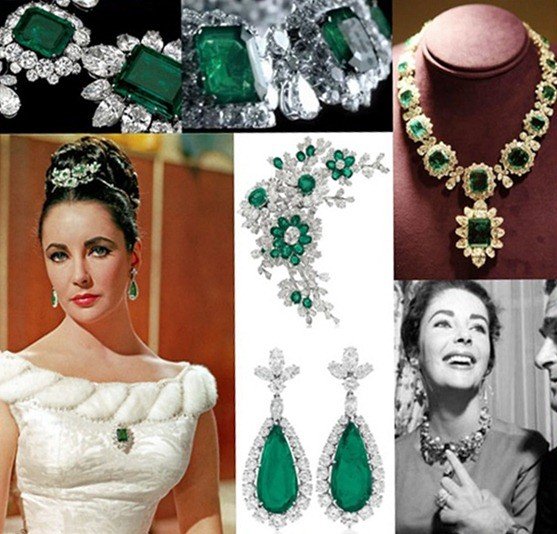 Emeralds are popular with a number of familiar faces in the media today too.  Sofia Vergara, Angelina Jolie, Jamie-Lynn Sigler and Victoria Beckham have all been known to wear emeralds for red carpet events.  Beckham is known for switching her engagement ring according to her mood and outfit and her collection includes a stunning emerald surrounded by a diamond halo from husband David.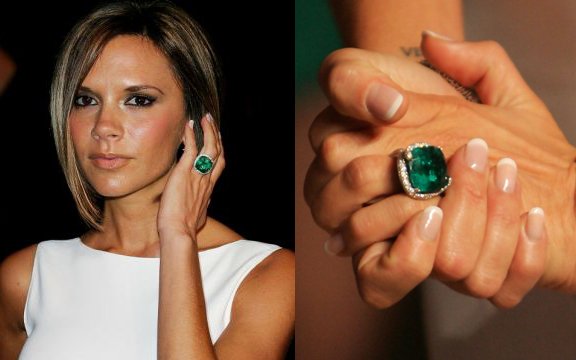 Angelina Jolie's remembered for the emerald earrings and ring worn to the 2009 Academy Awards. Her 115-carat emerald drop earrings and 65-carat emerald ring stole the show that year. The two pieces totaled $2.5 million.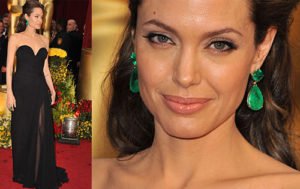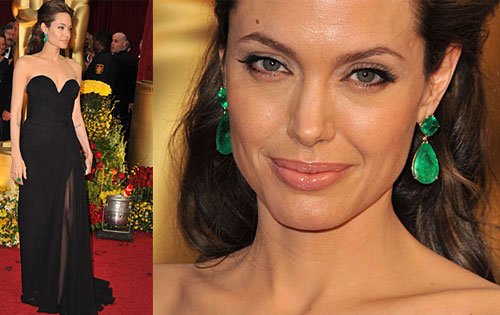 With so many purported benefits, it seems that you would not need much convincing to include emeralds in your collection of fine jewelry.  Browse emeralds in our fine jewelry collection now – Click HERE.